Virus Defense
Virus Facts
Amino Acid Attack
Reducing Arginine
Compete w/ Arginine
Virus Attack
Approach
B Complex
Olive Leaf Extract
Lysine Supplements
Vitamin C
Green Tea
Disclaimer
Aging Muscles
Aging Muscle Facts
Amino Acid Role
Increasing Leucine
Foods
Supplement
Science Daily
Young Blood
Skin Tags
Facts
Surgical Removal
Non-Surgery
Topical Treatment
Disclaimer

Jessica's Food Tips
Protein Foods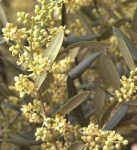 Olive Leaves and blossoms
There are several natural ingredients that inhibit or kill viruses. Their effectiveness depends on a variety of factors including your individual body chemistry. Therefore, only some of these will work for your. My recommendation is to try them. But, don't assume that "more is better." These ingredients are considered to be safe and are all sold over-the-counter, but how they affect you is what is important. Never exceed the manufacturer's recommended dosage.
The ingredients I recommend are:
Olive Leaf Extract
L-Lysine Supplements
Vitamin C
B Complex ('Balanced 50' type)
Green Tea
And so does Allan N. Spreen, MD, The Nutrition Physician. He recommends a few additional ingredients but some are difficult to use at home (like B-12 injections!).
I wouldn't argue with his recommendation of acidophilus supplements or citrus bioflavonoids but recent studies have shown Echinacea to be ineffective.
Take 1-2 capsules per day.
50mg of the following: More Info
B1 (thiamine HCl), B2 (riboflavin), B3 (as inositol hexaniacinate), B5 (d-calcium pantothenate), B6 (pyridoxine HCl), Choline, Inositol, and PABA; 50mcg (µg) each of B7 (d-biotin) and B12 (cyanocobalamin), and 400mcg of Folic Acid.
Olive Leaf Extract
I actually believe this ancient compound saved my life. After recovering from influenza enough to be let out of the hospital, I became ill again. A couple rounds of testing found I had Mononucleosis, Epstein Barr Virus - the "Kissing Disease." Unfortunately, I wasn't mounting an effective response.
Antivirals were not administered. Why? I don't know. But after four months and almost losing my job, I decided I had to do something. 'Something' turned out to be Olive Leaf Extract. After only 36 hours I could tell I was on the mend. In a week I was well. My MD was amazed and unmoved - just a coincidence he said. However, I'm convinced.
I've started taking it at the first symptom of a cold. The duration of my colds have bee reduced to a couple of days at most and a few hours at best. I believe!
Note that the active ingredient appears to be Oleuropein. You want to make sure the brand you purchase has at least 18 percent of this ingredient.
Lysine competes with arginine. Less arginine less viral reproduction. This lets your immune system catch up with the virus. You experience fewer symptoms. After all, many of the symptoms of a cold are caused by your immune system!
500mg twice per day
All the decaffeinated Green Tea you can drink. Sugar is OK in moderation.
---
Disclaimer: Information found on links outside this site are the responsibility of the various authors. This site does not endorse suppliers unless we so explicitly state.